25 raw wool and wood sail forms measuring 10-40'
Windscape
This land-specific installation was created in collaboration with Shelburne Farms for Burlington City Arts' exhibition Of Land and Local. These meadow sail forms are made of raw wool sheared from sheep that graze the pastures of Shelburne and local farms. Measuring anywhere from ten to forty feet, they are supported by invasive species of trees culled from managed woodland of the farm. Unlike true masts the twists and turns of the trees shift the woven netted forms of wool at every angle.
There are many compelling attributes of Shelburne Farms, and one of them is space; It is vast and open thanks to the grazing livestock. It was my intention early on to honor this noble landscape and the environmental mission of Shelburne Farms. It became clear to me that I wanted to engage the viewer with the land, surrounding water and open sky. This installation is meant to be viewed from far away as well as draw you into this irresistible field to join the herd.
The undulations of the pastures of Shelburne Farms remind me of waves at sea. The grazing livestock's slow movement from pasture to pasture suggest to me the gesture of distant ships, and thus the form of sail entered early in my sketches.
Sails engage the horizon line. They billow with the invisible energy of wind; at once they are both two-dimensional and three-dimensional. They are an architecture that is fluid, turning, moving, filling, expanding. They are responsive and alive.
The three flocks of sails are grouped as a response to landscape architect, Frederick Law Olmsted's expansive plans for the layout of Shelburne Farms. When viewed from the north side of the field, the meadow sails line up and become one big flock sailing the field towards Lake Champlain.
Using the texture of wool my goal is to re-sensitize the desensitized. Wool begs to be touched and smelled. It is the exact opposite of the touch-screens of our everyday. Wind plays with the tendrils. When it rains and we see the wool dripping, we feel the wetness. Watch the sun transform the sails throughout the day, creating a lacy effect on one side, and on the other, an illusion of something solid, rock like.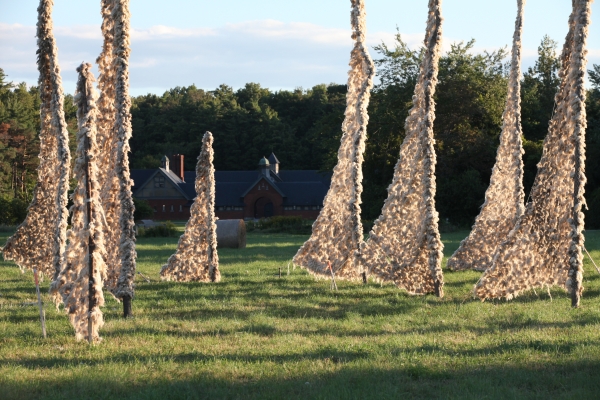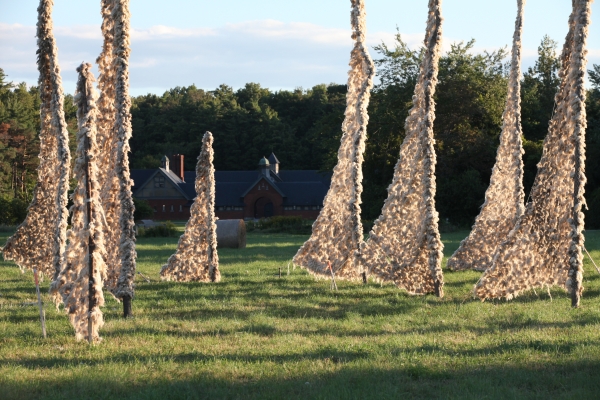 This black and white video is from Jacob Lumbra, a University of Vermont student who came to work in the barn/studio during the residency at Shelburne Farms.
Please visit Windscape Facebook page to follow new images and video or to post your comments and images you have taken of yourself at the installation, or of the surrounding landscape as the leaves change. Catalog of the installation is on sale online.